Best Seller
Pick up our prime power deals.

New Product
Save on our brand-new product bundles.

Accessories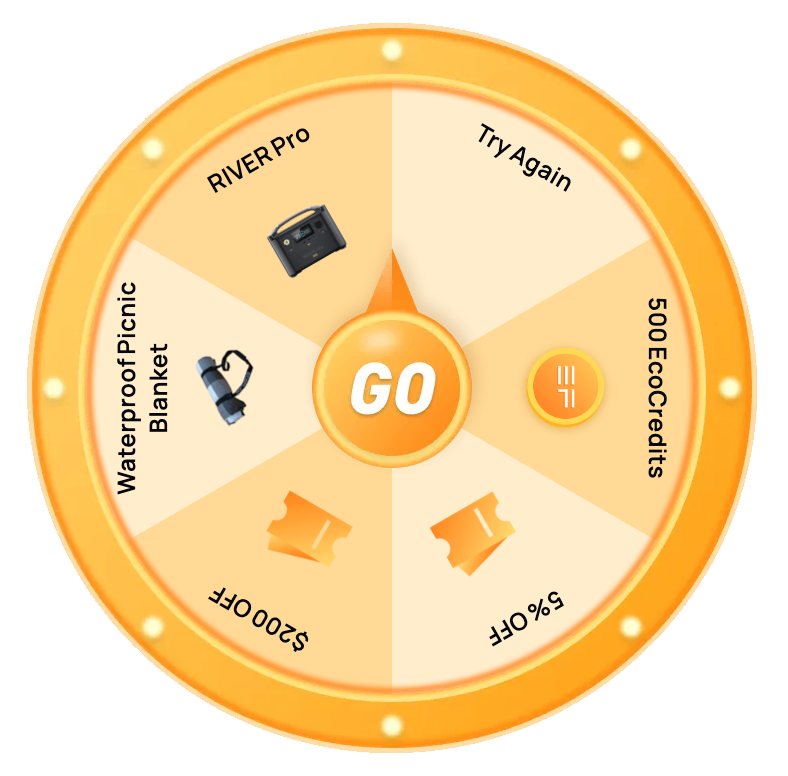 Member-only Benefits
- Get 2x EcoCredits on web-only bundles.
- Spend 500 EcoCredits and spin for a chance to win a RIVER Pro.
Spin >>
Shop Prime Day Today, Get Years With EcoFlow

Membership
Earn extra EcoCredits and spin for
a chance to win a RIVER Pro
during Prime Day Sale.

30-day Price Match Gurantee
We'll match the price if you find a
product cheaper within 30 days.

Free Shipping
Get free shipping
on all orders.
Campaign Period:EcoFlow Prime Day Sale runs from June 28 2023, 12:00 AM PDT to July 16, 2023, 11:59 PM PDT.
Eligibility of Participants: This campaign is open to all citizens of the United States who are at least 18 years old before June 28, 2023.
Activity Mechanism:
1. 30-day Price Match GuaranteeFrom June 28, 2023, to July 16, 2023, orders placed on the official website will include a 30-day Price Match Guarantee service. If a lower price is found on the official website within 30 days of the order being placed(excluding Flash Sale products), customers can apply for a refund of the price difference. (Other channels such as Amazon can not be used to claim a lower price on the official website for a refund.)
2. Membership Benefits
a. Only when purchasing exclusive products on the official website can customers receive Double EcoCredits. No such benefits will be available for purchasing other products. Exclusive products include DELTA 2+220W Portable Solar Panel+DELTA 2 SmartExtra Battery+Bag, WAVE 2+DELTA 2 Max.The additional Double EcoCredits will be credited to the member's account, together with the original EcoCredits after the order is received.
b. The member's Lucky Spin activity will start at 12:00 AM PDT, on June 28, 2023, and end at 23:59 PDT on July 16, 2023. (https://www.ecoflow.com/ca/ecocredits) c. You'll have to log into your EcoCredits account first and make sure it's the same email as the one you place an order with. If you haven't registered yet, you can sign up for a free account here: https://www.ecoflow.com/ca/register?redirect=https://www.ecoflow.com/ca/ecocredits d. If a return is initiated, EcoCredits will be withdrawn
3. All coupons are subject to usage conditions
a. Available for all products, excluding flash sale productsb. Limited to one coupon per orderc. Only applies to customers in the US and CA
General:
1. If you encounter any problems during the promotion, please contact support@ecoflow.com for assistance.
2. Free shipping is not available for outlying areas, Puerto Rico, Hawaii, and Alaska. Please refer to our shipping policy for more details.
3. To the extent permitted by applicable law, we may decide to modify these rules or cancel the promotion at any time. If there is any fraud or abuse related to the promotion, we reserve the right to exclude any customer from the promotion.
4. Participants in the sale agree to be bound by the terms and conditions set forth herein, and understand that EcoFlow's decisions are final and binding. No correspondence or appeals will be entertained. EcoFlow reserves the right to make the final and ultimate interpretation of this campaign.
5. During the sale promotion, all orders must comply with EcoFlow's purchase agreement and return policy.
6. The sale promotion is not applicable to wholesale or distributor orders.
7. Any unauthorized or fraudulent behavior will result in disqualification of participants.
8. Participants must comply with all applicable laws and regulations.
9. EcoFlow reserves the right to stop, cancel, or change the promotion at any time during the promotion. Any changes will be announced on the EcoFlow official website.
10. All prizes in this promotion are limited in quantity and are available on a first-come, first-served basis. Any matters not covered herein will be handled according to EcoFlow's final interpretation.
11. EcoFlow will assume no responsibility for late entries, which may occur for any reason, including but not limited to network transmission failure.
12. EcoFlow will not be responsible for any direct or indirect losses or damages incurred by any party, including the participants, in connection with, or arising from acts or omissions, or any way related to this campaign.
13. Participants agree to release and discharge EcoFlow from any liabilities and claims, including breach of contract, tort, negligence, or any other cause of action at law or equity, arising out of, or in any way connected to this campaign or the participant's entry into the campaign