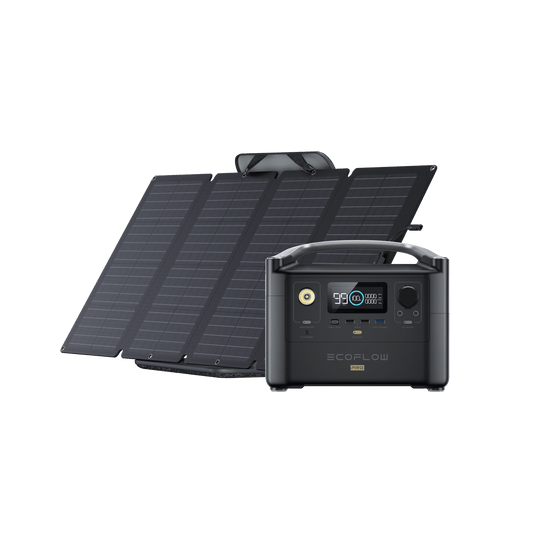 The EcoFlow RIVER Pro is a compact, portable power station that is built for taking your adventure into the great outdoors. Whether you are camping, over-landing, tailgating, or boating, the RIVER Pro provides reliable power that lets you take your adventure anywhere.

X-Boost Smart Algorithm
The EcoFlow X-Boost technology gives you the ability to use the 600W inverter to power essential devices like kitchen appliances and tools up to 1800W. This unique technology is perfect for outdoor adventures when you need to power your favorite devices on the go. Please conduct full test on a case-by-case basis to confirm the X-Boost feature works with your appliances. Use X-Boost with devices below 1200W for the best product experience.

Faster Recharging Speed
EcoFlow's X-Stream fast charge technology eliminates the need for carrying around bulky power adapters. The RIVER Pro supports AC charge input up to 660W and can charge from 0-80% within 1 hour, achieving a full charge in 1.6 hours.

Power that Grows with You
From a solo road trip to group camping, the RIVER Pro has expandable power that unleashes your weekend adventures. If you are planning on taking a long journey or have more power-heavy applications in mind, add the RIVER Pro Extra Battery to double the device capacity from 720Wh to 1440Wh.


3 AC Outlets
Step into the wild with complete peace of mind with the RIVER Pro. Whenever you are having a backyard adventure with the family or powering a completely off-grid adventure, the RIVER Pro powers essential appliances and devices.

Smart Solar Charging
The RIVER Pro can be charged with two 110W solar panels connected in parallel in 4.5 to 9 hours, which gives you the freedom to enjoy clean energy wherever you are.

Compact and Portable
Weighing just 15.9 lbs, the RIVER Pro features an easy-to-carry handle, which makes it portable and easy to transport. It can easily fit in a car trunk, on a campsite, or indoors, giving you the power to take your adventure anywhere.

Power a Wide Range of Devices
The RIVER Pro comes with three AC outlets. (Note that the total rated wattage of the three AC outlets is 600W (surge 1200W)). With a built-in 600W inverter, the RIVER Pro can power devices up to 1800W with the X-Boost mode on. This provides support for a wide range of essential devices such as a fridge, TV, laptop, hairdryer, and more.

Note: It is not recommended to use the RIVER series power station to power heavy-duty devices e.g., air conditioners, ovens or washing machines.
Please conduct full test on a case-by-case basis to confirm the X-Boost feature works with your appliances.

Warning: DO NOT use RIVER series portable power station AC charging cables on DELTA series power stations. EcoFlow takes no responsibilities for any damages caused by customers' failure to follow instructions. Doing so will void the warranty.

EcoFlow 160W Solar Panel
Stay in charge wherever you go. The EcoFlow 160W Solar Panel is portable, foldable, and intelligently designed, delivering a smart and easy way to produce power on the go.
Portable & Foldable
The EcoFlow 160W Solar Panel is portable and foldable, making it ideal for camping, hiking, and outdoor adventures. The solar panel folds into a compact size for transportation, and can be unfolded and set up easily.
Advanced Solar Cells
The 32 premium monocrystalline silicon cells provide a high conversion efficiency of 22%, guaranteeing efficient power in daylight conditions. The total maximum input of the solar panel is subject to environment and operation conditions. Use the solar panel in direct sunlight for the best performance.
Intelligent Solar Power
The EcoFlow 160W Solar Panel can be paired with an EcoFlow power station to take advantage of the advanced MPPT solar charge controller, which detects current and voltage in real time. This provides the best solar power performance, even when environmental conditions change.
Adjustable Kickstand
The adjustable kickstand enables you to position the solar panel in any direction or orientation. This design feature ensures that you can connect and position multiple panels together without making them overlap, which provides more efficient solar panel charging.
Compatible Design
The universal Solar connector is compatible with other products on the market, and it enables you to connect multiple EcoFlow 160W Solar Panels together with the EcoFlow DELTA for more efficient solar power generation.
Durable, Dust & Water resistance
Whether you are camping, hiking, or going on a road trip, the EcoFlow 160W Solar Panel has got your back. With IP67 rated dust and water resistance, our solar panel is designed for the great outdoors, also featuring an 0.2mm ETFE film that protects the surface from ultraviolet light and prolongs the life of the product.
Solar Panel Connection Tutorial